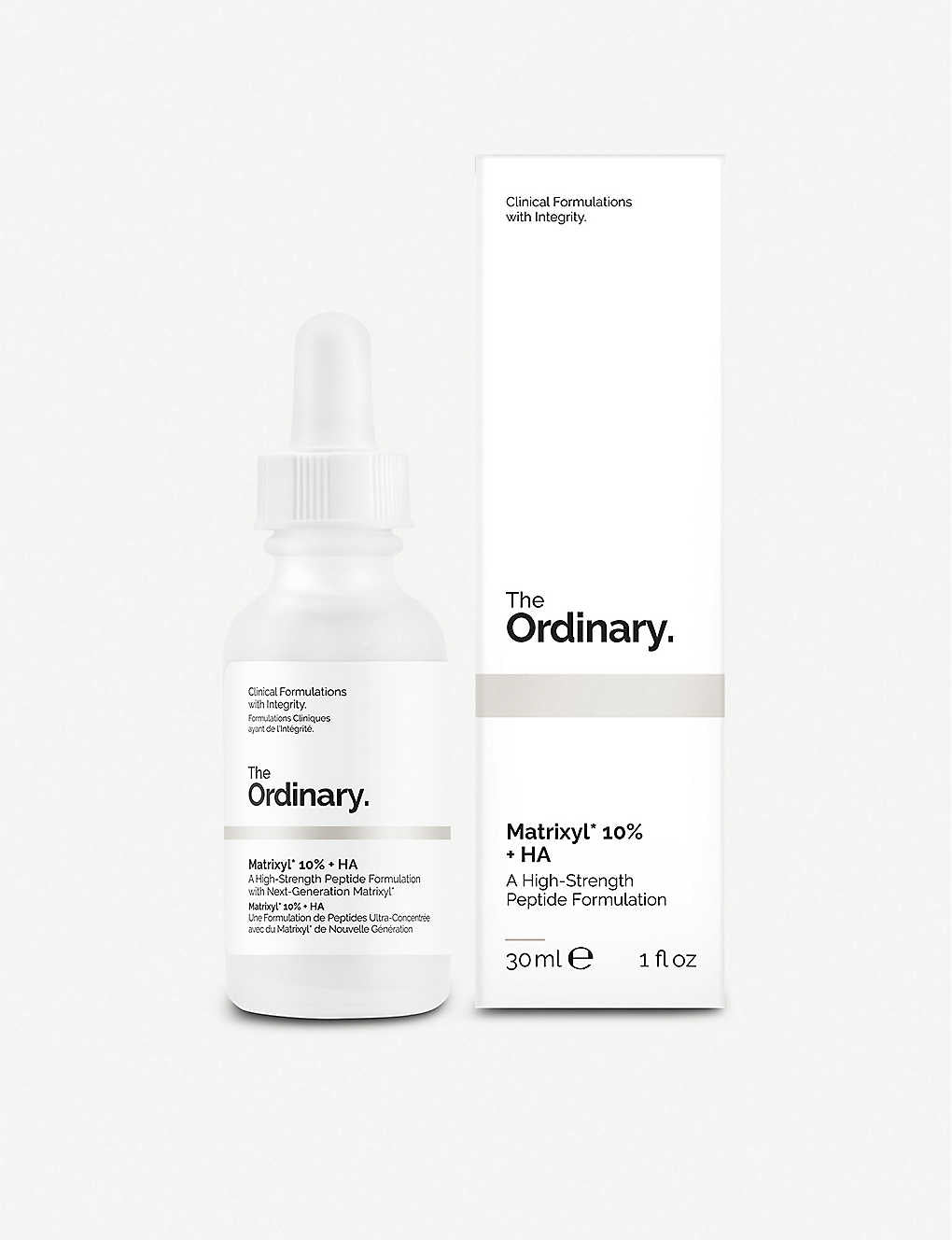 Matrixyl 10% + HA
Regular price $16.30 Sale
Visibly soften fine lines and wrinkles with this powerful peptide serum.
What It Is
Matrixyl 10% + HA is a water-based serum with two powerful peptide complexes and hyaluronic acid.
What It Does
This treatment softens fine lines and wrinkles, hydrates the skin, and promotes a smooth, plump appearance.
Key Ingredients
Matrixyl: a peptide complex that reduces static and dynamic wrinkles. This formula contains two generations of Matrixyl (Matrixyl 3000 and Matrixyl Synthe'6).

Hyaluronic acid: enhances the delivery of Matrixyl and boosts the skin's moisture content for a plump, smooth appearance
How to Use
Apply a few drops to your face in the morning and at night before oils, moisturizers, and creams.
Other Details
Size: 30 ml

pH: 5-6

Cruelty-free

Vegan

Silicone-free
Frequently Asked Questions
Will Matrixyl 10% + HA work with my skin type?
This product is suitable for all skin types.
Does Matrixyl 10% + HA treat acne?
No. We recommend Salicylic Acid 2% Solution, Niacinamide 10% + Zinc 1%, or Azelaic Acid Suspension 10% for acne.
How do I add Matrixyl 10% + HA to my skin care routine?
Apply it to cleansed skin before oils, creams, and moisturizers.
How often can I use Matrixyl 10% + HA?
Apply it up to twice per day, once in the morning and once at night.
Can Matrixyl 10% + HA be used as an eye serum?
Yes. However, depending on your skin type, you may want to layer an eye cream over it for extra hydration.
**All of our products are 100% Authentic